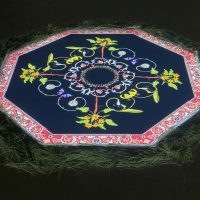 Vernissage & Events
February 17th, 2019 from 10am to 12pm
Opening : "Croissant-chat with the artist Hannah Claus"
Please book at director@museehuronwendat.ca
February 23th in pm
The museum will welcome the Manif d'Art 9 participants
An event in rotation with different places, by reservation on their Web Site
April 3, 2019 at 18:30 
Conference, performance and demonstration
" T-T-T-T – From the trembling tent to the talking tent in contemporary Aboriginal art " with the sociologist and curator Guy Sioui Durand accompanied by the artist Manon Sioui,  at Musée huron-wendat.
Taking advantage of his eloquence inciting to participation, what he calls « performed harangues », the Huron-Wendat sociologist and curator Guy Sioui-Durand will brought out this authentic specificity of the current manifestations in current Aboriginal art. With the in situ complicity of Manon Sioui, from Wendake, and linked to the animation installation of the Huron-Wendat Museum's guest artist, Hannah Claus, he will highlight the significant Iroquoian contribution, Huron-Wendat and Kanienke'a:ka, to the Manif d'Art – The Québec Biennial.
The Aboriginal World is dynamic and its artists are its "portageurs" or transmitters. To the territorial affirmation, the respect of Mother-Earth and women as well as the Aboriginal languages' revitalization, the artistic creativity make itself accomplice. It manifests itself as much on the scenes, screens and internations' art places as in our communities.