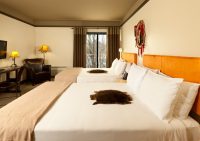 Rooms
All rooms have a breakthetaking view on the Akiawenrahk River.
Your first in-room morning coffee provided with our Keurig coffee appliances;
Two bathrobes at your disposal in each room;
Goose duvet down;
Alarm clock with iPod and iPhone dock;
One small refrigerator;
One 40'' high-definition flat screen TV;
French-style balcony;
Ironing board and iron;
Hair dryer;
High-speed wireless Internet;
Work areas;
King size bed, terrace-style balcony and glass shower are also available in some rooms. Please ask the reception desk.