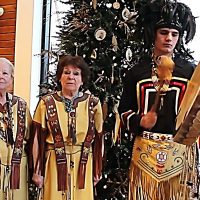 Activity on the song Jesous Ahatonhia, drum and decoration Yaronta '(tree)
Experience the spirit of the oldest Canadian Christmas carol at the Huron-Wendat Museum! The Jesous Ahatonhia activity, which lasts 30 minutes, will help you discover (or rediscover) the Huron-Wendat language and the story of Father Jean de Brébeuf around 1640. Try to discover the meaning behind some Wendat words and perform as a musician by interpreting Jesous Ahatonhia's musical accompaniment on traditional drums!
Afterwards, during an art workshop for your holiday tree, you can decorate a piece of bark and write your favorite Wendat word on it.
Reservation required (4 families maximum) 418-847-2260.
Important to arrive 15 minutes in advance