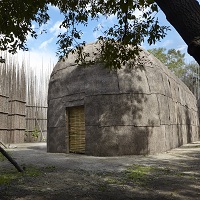 Longhouse visit
VISIT TO THE EKIONKIESTHA' NATIONAL LONGHOUSE
Visitors can journey into the very heart of the Huron-Wendat lifestyle during the pre-contact period at the Ekionkiestha' National Longhouse. Your host will welcome you to the site of the National Longhouse, which is in the Huron-Wendat Museum gardens. An explanation of the period's way of life, how they built this type of dwelling, horticulture (Three Sisters garden), and the creation myth will also be part of the enriching experience.
Visit length: about 1 hour
Departure times: 9:00 a.m. – 12:00 p.m. – 5:30 p.m.
Reservation required
Please come 15 minutes before the scheduled time