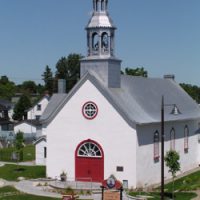 Notre-Dame-de-Lorette Mission
The current church was built around 1730 and modeled after the Santa Casa di Loreto in Italy, under the supervision of a Jesuit missionary, Father Pierre Daniel Richer. On June 10, 1862, a fire broke out at the neighbouring paper mill. It spread to the steeple and a large section of the roof, both of which were badly damaged by the flames. Fortunately, most of the furnishings, silverware and liturgical objects dating back to the founding of the mission were saved.
The church was renovated several years later and, at the beginning of the 20th century, a side chapel and a sacristy were added. Today, there is also a small sanctuary dedicated to Saint Kateri Tekakwitha, canonized by Pope Benedict XVI in October 2012.
In 1957, Notre-Dame-de-Lorette Church was classified as a historic monument by the Commission des monuments historiques de la province de Québec. In 1981, it was declared a National Historic Site by the Historic Sites and Monuments Board of Canada.
Guided tours of Notre-Dame-de-Lorette Church are available from the Huron-Wendat Museum.