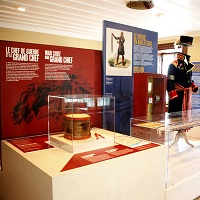 Tsawenhohi house
Located in the heart of Old Wendake, construction of Tsawenhohi House began in 1807 and was completed in 1820. Tsawenhohi was the name of the first Grand Chief to live in the house, Nicolas Vincent Tsawenhohi. In 2001, he was declared a National Historic Person by the Department of Canadian Heritage.
Between 1820 and 1993, Tsawenhohi House was home to three Grand Chiefs and other individuals actively involved in the political and economic life of the community. Classed as a heritage site by the Council of the Huron-Wendat Nation, it received the visit of numerous public figures and celebrities during the 19th and 20th centuries.
Guided tours of Tsawenhohi House are available from the Huron-Wendat Museum.